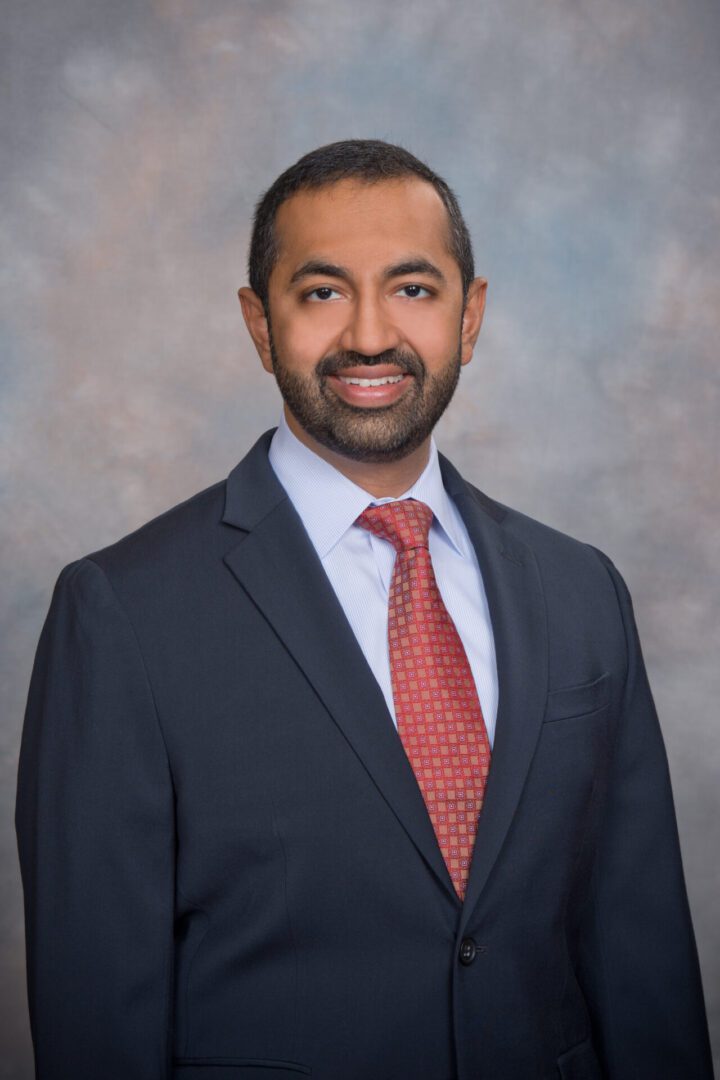 Umang H. Patel, MD
Radiation Oncology
See Dr. Patel's profile on Healthgrades.
Dr. Umang Patel graduated Northeastern Ohio Universities College of Medicine in 2011 and completed his residency at Baylor College of Medicine in 2016. He has 6 years of diverse experience with area of expertise as Radiation Oncology. Dr. Patel is trained to identify the type of cancer and create a targeted treatment plan that will increase the patient's chances of overcoming the disease.
He is accepting new patients at our Kingwood and Woodlands location.
Medical School: Northeast Ohio Medical University at Rootstown, OH, 2011
Residency: Radiation Oncology at Baylor College of Medicine in Houston, TX, 2016
Intensity Modulated Radiation Therapy (IMRT)
Image Guided Radiation Therapy (IGRT/IG-IMRT) with CBCT and BAT guidance
Volumetric Modulated Arc Therapy (VMAT) and Helical Tomotherapy
Stereotactic Radiosurgery (SRS) and Stereotactic Body Radiation Therapy (SBRT, SABR)
Intracavitary and Interstitial Low Dos Rate (LDR) and High Dose Rate (HDR) gynecologic brachytherapy
Interstitial LDR prostate brachytherapy
Intracavitary High Dos Rate (HDR) breast brachytherapy
American Society for Radiation Oncology (ASTRO)
Association of Residents in Radiation Oncology (ARRO)
American College of Radiation Oncology (ACRO)
American Society of Clinical Oncology (ASCO)
American Brachytherapy Society (ABS)
Texas Medical Association (TMA)
Texas Radiological Society (TRS)
Conroe Regional Medical Center
Houston Methodist Woodlands Hospital
Kingwood Medical Center
Memorial Hermann Cypress Hospital
Memorial Hermann The Woodlands Hospital
Tomball Regional Medical Center
Phase II Single Arm trial of Prophylactic Extended Field Pelvic Intensity Modulated Radiation Therapy for Cervical Cancer Patients with High Risk of Occult Para-Aortic Nodal Involvement. Initiated Clinical trial.
Samuelian J., Nguyen D, Farach A, Patel U., et al. Curative Treatment of Early Stage Non-Small Cell Lung Cancer Using Robotic Stereotactic Radiation Therapy in Smokers with COPD: A VA Population Study. Manuscript Submitted to Journal of Thoracic Oncology.
Patel U., Demas W.F., Seider M.J., Neading J.. (2010, July). AUA Symptom Score in Patients with Favorable Risk Prostate Cancer Treated with Permanent Interstitial Brachytherapy. Poster presented at: Summa Summer Research Fellowship; Akron, OH.
Patel U., Haffty B.G., Azu M., Kearney T., Yue N.J., Goyal S.. (2010, November). Placement & Visualization of Surgical Clips in the Lumpectomy Cavity of Patients with Stage 0, I & II Breast Cancer treated with Breast Conserving Surgery & Radiation Therapy (BCS+RT). Poster presented at: 52nd ASTRO Annual Meeting; San Diego, CA.
Azu M., Goyal S., Patel U., Kearney T., Has placement of surgical clips in lumpectomy bed fallen out of favor? Ann Surg Oncol. 2011 Jun;18(6):1529-32.