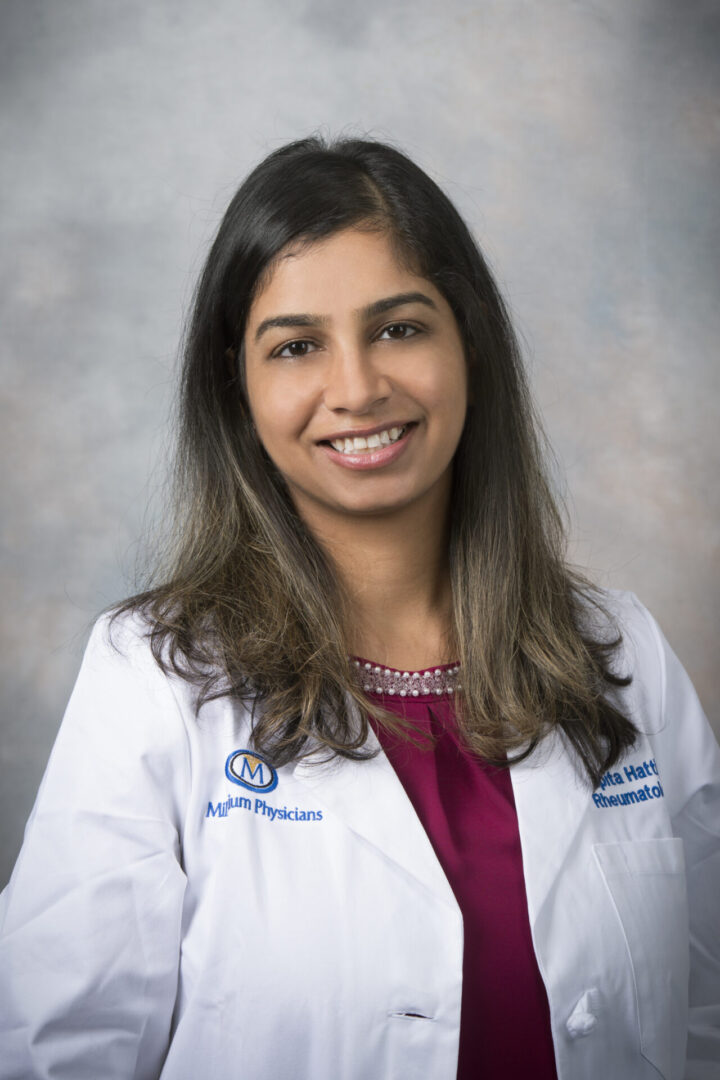 Kalpita Hatti, MD
Rheumatology
See Dr. Hatti's profile on Healthgrades.
Dr. Kalpita Hatti is a board-certified rheumatologist who completed her fellowship training in Rheumatology at the University of Virginia in Charlottesville. She served as faculty at the Loma Linda University in California. Prior to her joining Millennium Physicians, Dr. Hatti served as a rheumatologist in Eastern Washington.
Dr. Hatti enjoys spending time with her patients and believes in engaging her patients in medical decision making for the best outcomes in health as well as wellness. She is passionate about treating chronic rheumatic problems and loves establishing genuine long-term relationships with her patients.
She has a special interest in Rheumatoid arthritis, myositis and vasculitis.
She has published several articles in many renowned journals and continues to have a special interest in clinical trials.
Aside from practicing medicine, Dr Hatti enjoys traveling, spending time with her family and exercising.
Medical school - University Of Maharashtra Health Sciences
Residency - Rochester General Hospital
Fellowship - University Of Virginia
Rheumatoid arthritis
Myositis
Vasculitis
American College of Rheumatology and the Texas Medical Association.
Houston Northwest Medical Center
Memorial Hermann The Woodlands Hospital
Ixekizumab for the treatment of patients with active psoriatic arthritis and an inadequate response to tumour necrosis factor inhibitors: results from the 24-week randomised, double-blind, placebo-controlled period of the SPIRIT-P2 phase 3 trial. P Nash, B Kirkham, M Okada, P Rahman, B Combe, GR Burmester, Hatti K et al.The Lancet 389 (10086), 2317-2327
Hatti K, Guiliano V. Central nervous system involvement in relapsing polychondritis. J Clin Rheumatol. 2014 Oct;20(7):396-7.
Hatti K, Giuliano V.NSAID induced small bowel strictures. Annals of Orthopedics and Rheumatology. Ann Orthop Rheumatol 2(1): 1011
Hatti K, Rojas M, Kouides P. Rare case of Hemolytic Uremic Syndrome associated with only one transient low platelet count. Journal of Hematopathology. Dec 2012, Volume 5, Issue 4, pp 325-327
Lezcano, L and Hatti K. Fibromyalgia, In M Kochar (Ed), Kochar's clinical Medicine for Students.6th ed. In press.
Nguyen, CL and Hatti K. Inflammatory Myopathies. In M Kochar (Ed), Kochar's clinical Medicine for Students.6th ed. In press.