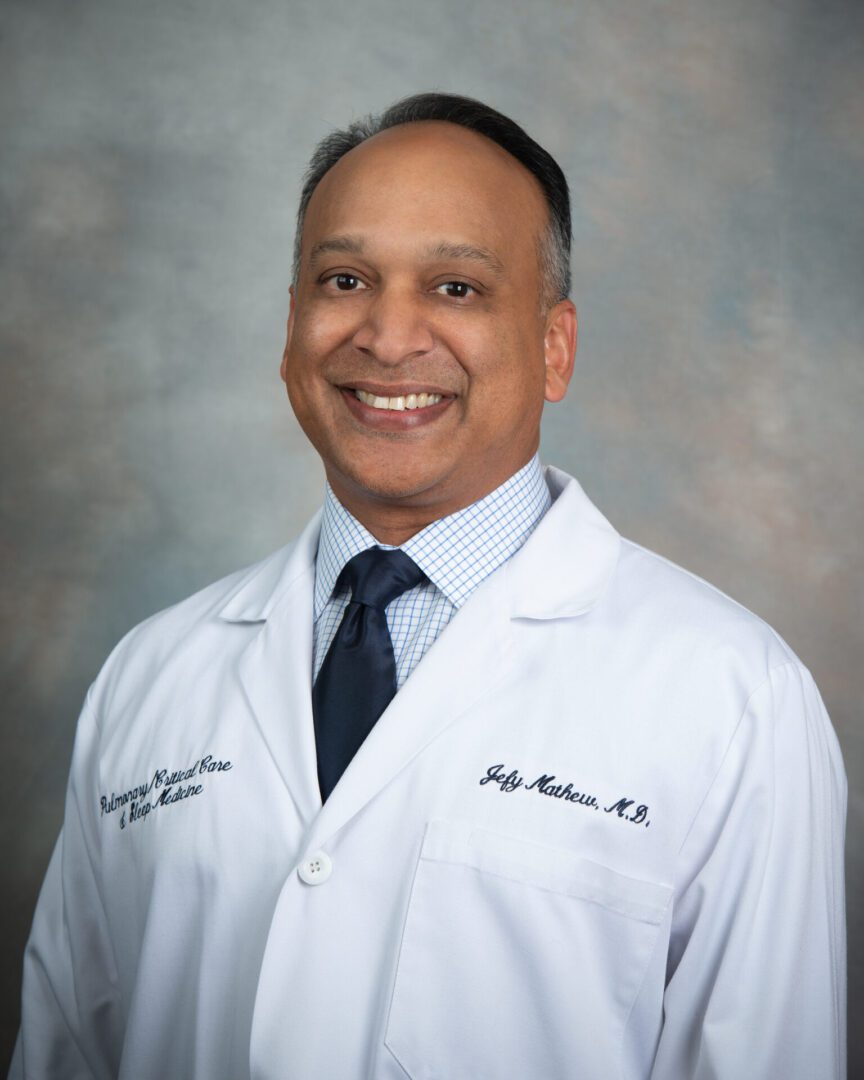 Jefy M. Mathew, MD, FCCP, D.ABSM
Pulmonary Disease, Critical Care Medicine & Sleep Medicine
See Dr. Mathew's profile on Healthgrades.
Dr. Jefy Mathew graduated from the University of Houston with honors in biology and a minor in chemistry. He earned his medical degree and completed his internal medicine residency at Baylor College of Medicine. He then completed his fellowship in pulmonary and critical care medicine and sleep disorders medicine at Harvard Medical School Affiliated Hospitals, including Brigham & Women's Hospital where he served as a clinical research fellow in sleep, circadian & respiratory neurobiology.
He is Board Certified in Sleep Disorders Medicine, Pulmonary Diseases, Critical Care Medicine and Internal Medicine. He currently serves as the Chief of Staff of Pulmonary & Critical Care and Medical Director of the Intensive Care Units at CHI St. Luke's Health - The Woodlands Hospital.
Although he is well versed and proficient in all aspects of general pulmonary & sleep medicine, Dr. Mathew's particular interests include cough, reflux, Bronchiectasis, and Obstructive Sleep Apnea. Dr. Mathew offers patient-centered care and his practice philosophy is to treat each patient with the highest level of care and with the goal of getting them back to living life to the fullest.
Medical School: Baylor College of Medicine in Houston, TX, 1996
Residency: Internal Medicine at Baylor College of Medicine Affiliated Hospitals, 1999
Fellowship: Pulmonary and Critical Care Medicine at Harvard Medical School Affiliated Hospitals, 2003
Bronchiectasis
Cough
Obstructive Sleep Apnea
Reflux
Chosen as 2007 Physician of the Year by St. Luke's Community Medical Center–The Woodlands, an award based on his commitment to quality and excellence in healthcare, demonstrated level of patient-focused care, and leadership among his peers and staff. Click to read the article
Recognized locally and statewide as one of America's Top Physicians in 2009 by the Consumer's Research Council of America
Received the Patient's Choice Award and the Compassionate Doctor Recognition.
American Academy of Sleep Medicine
American College of Chest Physicians
American Thoracic Society
CHI St. Luke's Lakeside Hospital
CHI St. Luke's Woodlands Hospital
Cornerstone Critical Care Specialty Hospital
Houston Methodist Woodlands Hospital
Houston Northwest Medical Center
Kindred Hospital Northwest
Memorial Hermann The Woodlands Hospital